Agri-business Management Graduate Transforming The Lives Of Farmers In Andhra Pradesh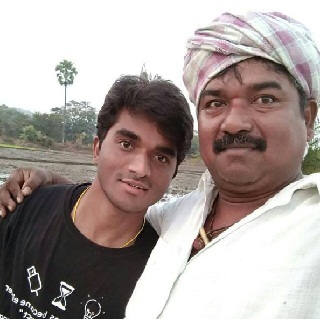 Praveen, Sri Sri University Agricultural Business Management Graduate, with his Father

Farmers of Gudupalle village of Chittoor district sat in awe as Raghu and his father, Ram showed the prototype of an automatic alarm to know the water level in the farm. When they were done, they were met by claps.

Ram and Raghu were not the only one to showcase their talents. There were other sets of farmers and their children who were a part of the child-parent innovation program, a program organized by Praveen Gajula and his team from his work place.

"We wanted to give a platform for the innovative ideas of these farmers. The idea was to allow the participants to share their ideas with fellow farmers who could implement a feasible idea in their farm" says Praveen.

The program participants were a product of a special agriculture-based education, whose curriculum has been designed by Praveen, a graduate in agri-business management at Sri Sri University.

Working as a research fellow and trainer, Praveen, 25, taught the programs in 50 villages in the districts of Kuppam and Chittoor within the year 2017. The programs have immensely benefited the farmers. Shares Shankar, a farmer and participant of the program in Kuppam district, "the organic farming methods taught in these programs have helped me double my yield. I'm very happy."

Along with teaching these programs, Praveen supplied organic bio-fertilizers and bio-pesticides to farmers to facilitate their tryst with organic farming.

"It is my passion to disseminate the knowledge of organic farming and the farmers have shown a lot of excitement to learn," shares Praveen.

Praveen, who as a student of agri-business management in Sri Sri University has helped farmers double their yield of rice with his published research, developed interest in organic farming when he saw the downside of chemical farming in his father's farm in Bussapur, Telangana.

Recounts Praveen, "Whenever I discussed with my father regarding our farm, he would say we invested so much in chemical fertilizers and pesticides. Yet, there are no proper returns."

That slowly bent my mind towards natural and organic farming.

"Then, in my university my professors encouraged me to learn natural farming methods. They even connected me with The Art of Living ashram where I got to do agriculture seva. There, I learnt our traditional agricultural tools and techniques."

"When I returned to the university, I started growing vegetables for the university's kitchen using jeevamrutham, panchagavya, bio-fertilizers in the university's gardens. The best part was that I not only learnt while doing, the knowledge in the classroom allowed me to author three research papers," Praveen adds.

"After I graduated, I knew what I had to do: spread the knowledge of best farming methods. My future goal is to raise awareness about natural farming and the importance of desi cows, whose manure, urine and ghee are essential in natural farming, in my village," tells Praveen.