Agri Farm Consultant in Tirunelveli
Contact Person :SARONI Agri Farm Development Services saroni
Address :Tirunelveli, Tamil Nadu
Mobile No. : 9842157331
Email: saroni.1992 [at] gmail.com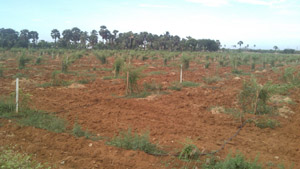 farm land development viewers, we are basically horticulture graduate science background since 1992 onwards,Farm field experience morethan 25 years from land selection,all types of survey work, Identified water source based on hydro survey ( openwell/ Bore well) Arrangement of fencing( live, barbed wire, chainlink, solar fence), Arrangement of bank loan, Govt subsidy,Irrigation material like Drip/ Sprinkler/ Rain gun , Supply all types of seedling/ Grafts/ budded/ Layer/Hybrid seedling/ Timber wood seedlings,Arrangement of Dairy/ Goat/ chicken farming under central/ state subsidy scheme, Regular field visit, maintainance, Arrangement of marketing people & All types of farming value added services.

if need more detaails , pl contact to
SIVAKUMAR,
HORTICULTURE CONSULTANT,
SARONI AGRI FARM DEVELOPMENT SERVICES,
TIRUNELVELI,SOUT TAMILNADU.
9842157331/WhatsAPP.
9442379331/WhatsApp.
Farming Consultancy in Coimbature
Contact Person :Dr. N Dhandapani Nanjappan
Address :Coimbatore
Mobile No. : 9443176477
Email: profndhandapani [at] gmail.com

For my knowledge sharing (36 years of experiences) to - Any cropping/things related to Agriculture field-
For companies: Pesticide/seed/fertilizer/Organic
Products: Guidance to that company marketing/ other staff members throughout the month (Monthly one or two days class on any subject given by the company / outdoor field trainings etc.,)

For individuals: My technical field visit (size of the garden immaterial-but different location treated as a separate farm; 2 to 3 farms /day) on a convenient day in a month followed by guidance to that farm staff members and laborers throughout the cropping.