Product Name: 8 HP diesel engine 5.9kw 1800 rpm
Details: 8HP 5.9 kw 1800rpm SV1 TRB model, along with foot valve and hose attached. Engine ready to use condition. Very new and very good in condition.
Seller Name: Siva Vasanth
Address: Trichy, Tamil Nadu
Mobile Number: 8870248706
Email: paddiup@yahoo.com

Manufactures quality and safety proven fruit and vegetable washer! with years of experience in fruit and vegetable washing machines, SSEC is committed to provide its users with exceptional performance and services.

To meet the growing demand for Vegetable Leafs cleaning equipment, SSEC incorporates sophisticated technologies to enhance the power and convenience of each cleaning machine. In fact, SSEC is the most respected in the industry for its production of high quality, efficient cleaning machines, whether you are looking for a commercial or industrial cleaning equipment's.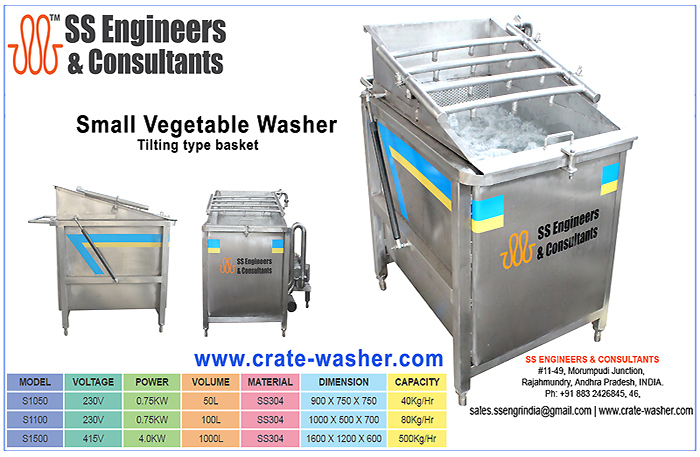 Applications: Agricultural,Industrial Kitchens, Food Preparation, Medicine & Pharma, Supermarkets, Hotels & Restaurants,Food supplie chain, warehouses... etc.

Seller's Name: Kirti Kothari
Location: Rajahmundry, District: East Godavari, Andra Pradesh
Mobile Number: 9885-94-2349
Email: satyasseng [at] gmail.com
Expected Price: 250000
Contact On: E-Mail: sales.ssengrindia [at] gmail.com www.ssdairyequipments.com
TAll type crop reaper
Tractor mounted reaper
Power reaper
Handy reaper all kinds of agriculture equipment and garden tools

Land Location: Bhiwani
Price: 44000
Seller Name: Jitender Walia
Seller Contact: 9813656688